Runescape Mouse Recorder
or mouse clicker is a special type of software that lets you record mouse actions to a log and then repeat those same mouse movements/clicks on demand infinite times.
The current version is in
beta
stage so many more features will be added soon. Right now its most useful function is the zero-delay click which makes it easy to perform certain Runescape actions instantly.
Fast Weapon Switching
- simply record the clicks at the position(s) in your inventory where the item(s) are located and then remove the delays from in between those mouse clicks from the script. It's not a complicated process, I'll post a guide later on.
Is this against the rules?
Yes, Jagex does not want you sending anything automated into the Runescape window. The risk of being caught is tiny if you decide to use this mouse clicker only for a few clicks(weapon switch) and not for something complicated like cleaning herbs. Use with caution at least until I add some randomization functions into the program.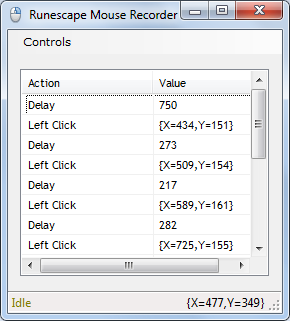 Requirements:
- Windows operating system
- .NET Framework 2.0+
Download Runescape Mouse Recorder